Christie Billings' Region Holds Meeting
Regional Property Manager Christie Billings held a meeting for her team in late January regarding expectations for the 2019 year. The agenda included yearly budgets, rents, maintenance shops, shop reports and much more.  In between discussions, the team worked on a bonding exercise by getting in groups to create a building out of arts and crafts that showcased curb appeal. The team finished with a "Painting with a Twist" class as they channeled their inner artists to create some masterpieces!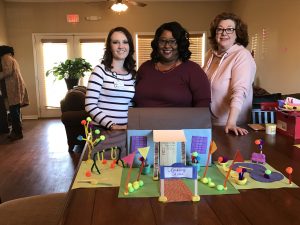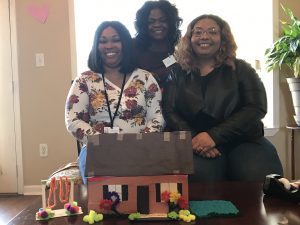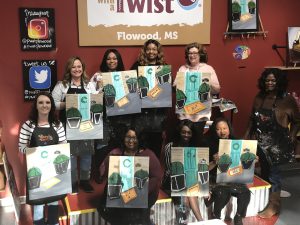 Park Trace Hosts Neighborhood Watch
Park Trace (Jackson, TN) hosted a Neighborhood Watch meeting for its residents in January, complete with a visit from an officer from the Jackson Police Department.  Property Manager Lisa Moorman and the staff provided snacks and refreshments, while Lt. Taylor was there to answer questions, discuss safety measures, and help with any other items that the residents were concerned about. There was an excellent turnout, and Lisa said the residents were appreciative for being able to voice their opinions with a member of the police force.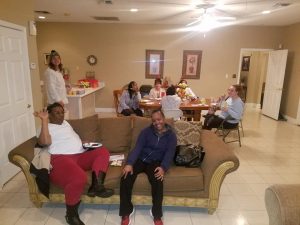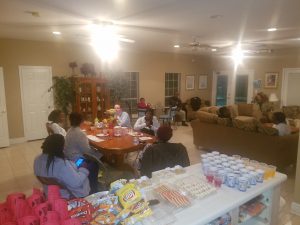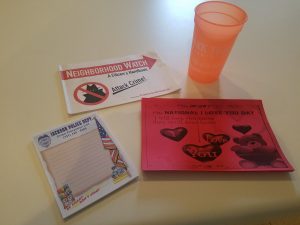 Valentine's Day, We Love You
Valentine's Day is a perfect holiday to have fun with arts and crafts, eat copious amounts of candy, and trade Valentine cards with friends and loved ones. That was definitely the case at many of our Ambling properties this February. Park Place (Jackson, TN) got into the spirit with an afternoon party for the residents and kids. There was a station where the kids could make Valentine cards to take to friends at school the next day, and the staff provided snacks and drinks for everyone to enjoy.
At Ashton Park (Valdosta, GA), the property hosted a get together for the residents and made nachos and hot dogs for the kids to enjoy.  The leasing office was decorated with balloons and hearts, and they even passed out special Valentines to all who dropped by.  Also in Valdosta, Ashton Meadows Property Manager Ruth Tywon had a bash for her senior residents, complete with cupcakes, cookies and other sweet snacks. Ruth's residents are always excited for a chance to party, and this Valentine's Day was no different.
Mattie Pruitt and her staff also held a party for the residents at Arcadia (Fairburn, GA). The usual Valentine candies were available, along with flowers for those that stopped by. They even held a "Dinner On Us" raffle, where several lucky residents won gift cards to local restaurants.
It is wonderful to see all these celebrations that allow for interaction and fellowship between the Ambling team members and their residents. Great job to all!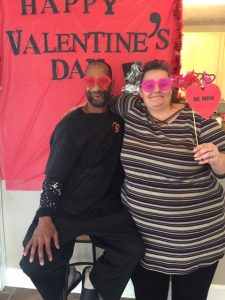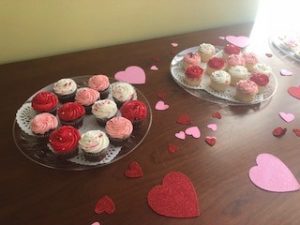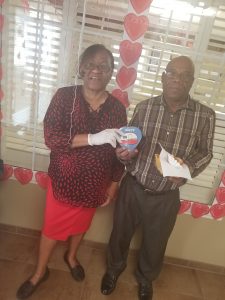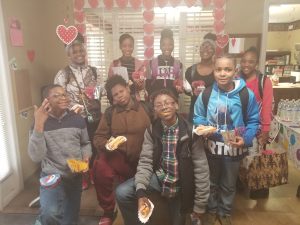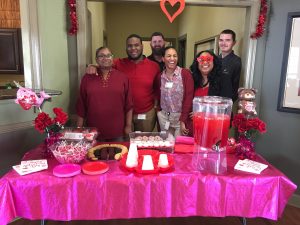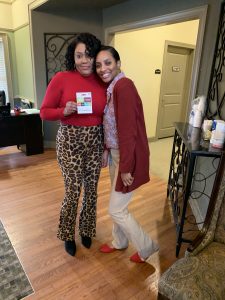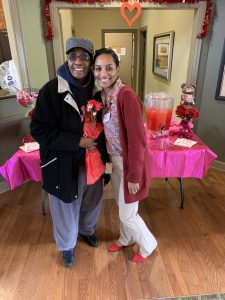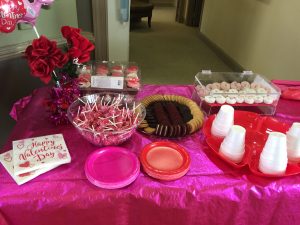 Going Once, Going Twice…Sold at Heritage Park
In early March, Heritage Park Apartments (Oxford, MS) hosted a 'Penny Auction" for the residents. Partnering with a local health and rehab facility, Property Manager Mary Liles had prizes that the residents could bid on with their pennies, which was also provided by Heritage Park. Everyone snacked on King Cake and lemonade, and so much fun was had that another auction is already planned for later this year!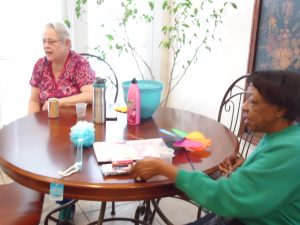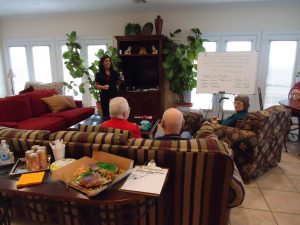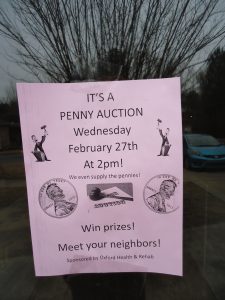 Vaughn Towers Gets Crafty
Vaughn Towers residents (Dothan, AL) enjoyed an afternoon of crafts in March thanks to property manager Vania Keener and some generous volunteers from Rocky Branch Congregational Holiness Church. The volunteers brought the supplies with them and helped get everyone started. From there, the residents enjoyed making magnets for the refrigerator and other crafts to be displayed around their apartments.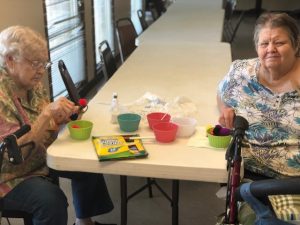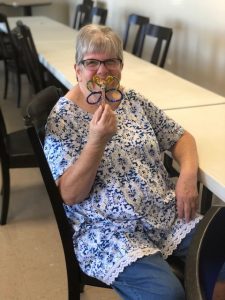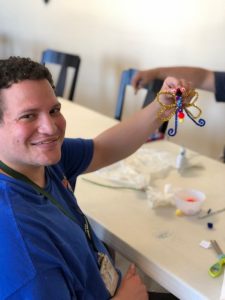 Senior Property Manager Treats Staff
Senior Property Manager LaQuetta Jones is very appreciative of her staff at Piedmont Park and Park Pines (Hattiesburg, MS). So, when National Employee Appreciation Day arrived on the calendar on March 1, LaQuetta took her team members out to breakfast at a local diner. "They are the best staff in the world, and they make my job worth showing up for each day," said LaQuetta. "You are only as strong as the people on the team that you lead. I have a pretty solid foundation with this crew. Just like the slogan 'We love our residents', I also love my staff."
Courtesy Officer Aaron Payne, Maintenance Supervisor Florencio Godinez, Park Pines Assistant Manager Shardae Young and other members of the staff all enjoyed the hearty breakfast thanks to their senior manager. What a great team in Hattiesburg!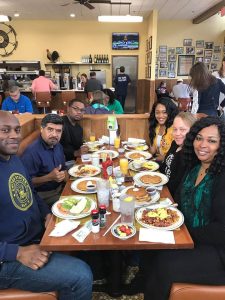 Leprechauns Looking Good at Park Ridge
Park Ridge Apartments (Jackson, TN) is always doing fun activities and games for the kids that live in this great community. This March was no different, as the property organized a Leprechaun Coloring Contest. The children gathered in the leasing office to decorate and color a leprechaun face, while enjoying snacks and drinks and sharing some laughter with each other. All the children received a prize for participating, and the winner received a "Candy Bouquet" for her efforts!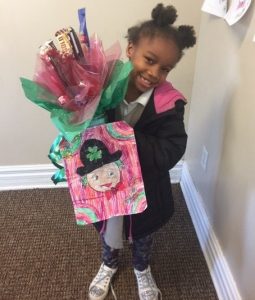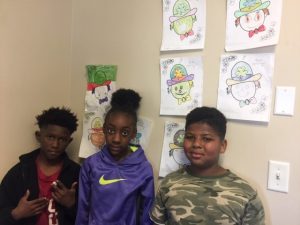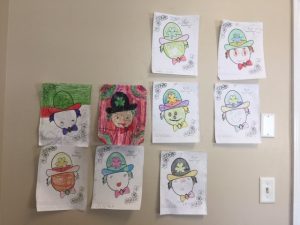 Spring Fling and Madness at Kirkstall
The Park at Kirkstall caught Spring Fever this March, and celebrated with a couple of parties. Property Manager Jennifer Stapleton and her staff first held a "Spring Fling" bash on St. Patrick's Day, where the kids enjoyed snacks, drinks, fellowship and tons of fun games. Everyone donned St. Patty's hats and shamrock beads and got into the spirit of the season.  The following week, the staff went "mad", as they hosted a March Madness party to celebrate the start of the NCAA basketball tournament. Nachos and sweets were on the menu, and the children enjoyed playing a timed basketball game, where they competed to see who could make the most shots in a hand-held basketball goal.  Jennifer and her staff are great at engaging their residents with games, parties, educational classes. Great job, Kirkstall!