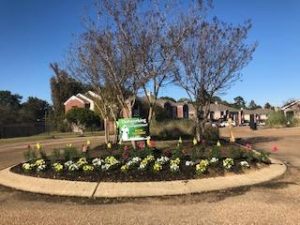 Ambling's properties competed in a "Curb Appeal Contest" this quarter.  This contest helped to remind us how important curb appeal is to our communities.  Our curb appeal is what sets us apart from the competition and how we present ourselves to residents, prospects, vendors, team members, our competition, investors, owners, management and everyone that enters our communities. It is extremely important that we are always paying attention to the details:
Inspect the grounds for trash and debris several times per day.  Make sure you are looking behind the buildings and all team members are contributing.
Make sure flowers are at the entrance.  Around your leasing office.  Mulch or pine straw are fresh, rolled and tucked.  No weeds! Hold those landscapers accountable!
No broken blinds and shutters.
Satellite dishes per the guidelines only.
Breezeways clean.
Mailbox Stations maintained.
All exterior lighting working.
Entrance signs clean and in good repair.
Keep trees and shrubs maintained at all times.
Keep your pool sparkling blue year round with pool furniture clean and maintained.
Flags and balloons out as required with no wilted balloons.
Quarterly Marketing Campaigns displayed.
Properties were judged on their curb appeal from the pictures we received from each property.  They were all great photos, and while we still see a lot of need for improvement, there was definitely a sense of pride in the pictures and the desire to learn and show improvement.  Each community below participated in this contest.
Participating Properties
Larry Molnar's Region
Calhoun Garden
Cartersville Gardens
Catoosa Gardens
Dunlap Gardens
Peaks of Loudon
Addlyne Jackson's Region
Arcadia
Ashton Browns Mill
Ashton Ridge
Heritage Crossing
Heritage Hills
Merchants Court
Palmetto Preserve
Jutta Klein's Region
Burkestone Place
Glynn Isle
North Augusta Gardens
Pecan Grove
Richmond Summit
Statesboro Summit
Richard Rhodes' Region
Bon Air
Ange Collier's Region
Park Crest
Park Place
Park Ridge
Park Trace
Terraces at Southaven
Emily Farmer's Region
Ashton Crossing
Ashton Meadows
Ashton Park (GA)
Avalon
Edgewood Park
Meadowood Park
The Park at Kirkstall
West Towne Cottages
Luzetta Barksdale's Region
Blakely Commons
Bridge Creek
Eastman Gardens
Merrimac Village
Little Anthony's Region
Manning Gardens
Seneca Gardens
Pam Grindle's Region
Bristol Park
Cypress Park
Park Wind
Summer Park
Windsor Park
Christie Billing's Region
Arbor Park
Ashton Park (MS)
Bay Park
Cameron Park
Dogwood Park
Heritage Park
Highland Park
Park Pines
Piedmont Park
Clara Bray's Region
Ashton Hills
Ashton Landing
Magnolia Heights
Pinewood Park
St. Phillip Villas
While this was an extremely hard decision, several properties stood out. Below are the honorable mentions as well as the Grand Prize Winner.
Honorable Mentions:
Avalon
Ashton Meadows
Bon Air
Catoosa Gardens
The Park at Kirkstall
Summer Park
Grand Prize Winner: