Ambling Volunteers with Habitat for Humanity
Ambling's Valdosta and Greenville offices each volunteered with their respective Habitat for Humanity chapters for this quarter's community outreach project. Dozens of Ambling employees at each location signed up to help this great cause. The Greenville corporate office and employees in Little Anthony Williams' region worked on construction of a home on Mulberry Street for the Azer family, while the Valdosta corporate office, along with some employees in Emily Farmer's region, put down sod and landscaped the exterior on the Wing's home on Charlton Street.  It was an enjoyable experience for all involved, and we hope the Azer's and the Wing's enjoy their new homes when they are completed!  See more pictures in the Ambling Memories section of this newsletter!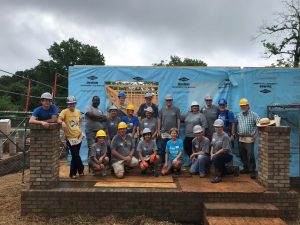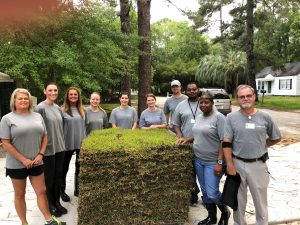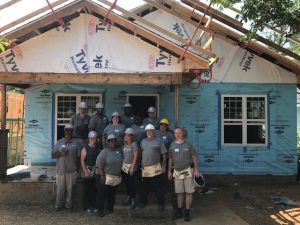 Jamie Gallahue's Region Raises Money for Habitat
It all started with a T-shirt.  Regional Property Manager Jamie Gallahue's region - consisting of Arcadia, Ashton Browns Mill, Ashton Court, Ashton Ridge, Heritage Crossing, Heritage Hills, Merchants Court and Palmetto Preserve - made t-shirts that they could wear on "dress down days" at their sites for a donation to raise money for Habitat for Humanity's Troup County, Georgia's branch. The goal was $500, but thanks to very generous donations from our employees, their families, and several sponsor donations, they blew that goal out of the water, raising $854!
This money was donated directly to Habitat for Humanity, and 100% will go to help the construction of 3 houses that are currently underway, according to executive director Stephen Brown, who was thrilled with the donation. Thanks to Jamie and all the wonderful employees and their families in this region for making a difference and helping live Ambling's motto of Enrich Lives. Build Community. Create Home.
Also, a big thank you to the sponsors who helped out - HighGrove Landscaping, Formula Construction, Above Par Wash, and What's Happening Promotions.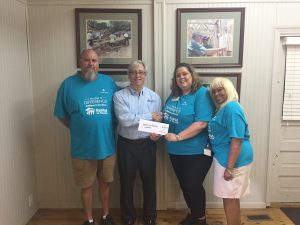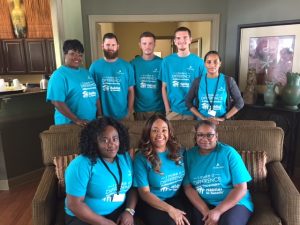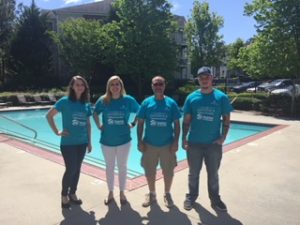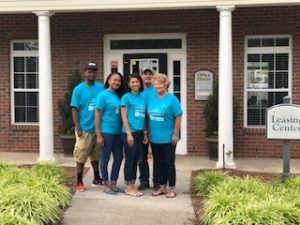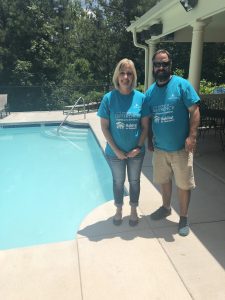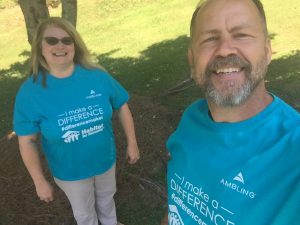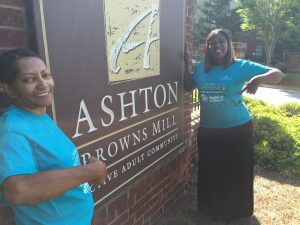 The Jackson, MS properties Help to Feed the Homeless
Several properties in the Jackson, Mississippi area, including three in Christie Billings' region - Bristol Park, Cameron Park, and Highland Park - partnered with Arbor Park, MidSouth 301, Park Wind and Windsor Park  to volunteer at Stewpot Community Services in May in order feed the homeless.  Stewpot helps the homeless, impoverished, and those with mental or physical limitations, and employees at these communities spent the day serving good, hot food to those in need.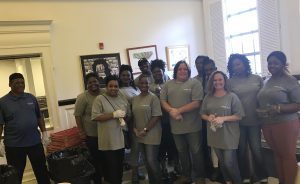 Bay Park Participates in Service Project
Property Manager Kiacha Graves and Assistant Manager Katia Kilpatrick volunteered to help "Ripple in the Bay" in April. This event is a fundraiser that works as a "pay it forward" service, where people can purchase as many plates as they'd like and then donate the food to first responders, elderly, police officers, and others. Their goal was to make 500 plates and they well exceeded that amount.  Kiacha and Katia helped plate the food, prepared it for delivery, and even delivered the plates themselves.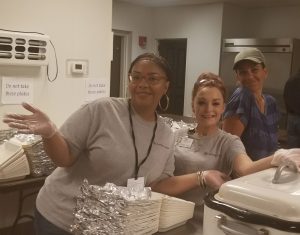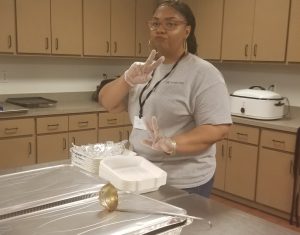 COMING 3rd QUARTER 2018
  UNITED WAY COMMUNITY OUTREACH