Ambling Partners with United Way Again
Both the Greenville office and the Valdosta office once again partnered with the United Way for this quarter's community service project.  As they did last year, the Greenville office volunteered with United Way's School Tools program, where they helped stuff backpacks full of school supplies for Greenville County students.  The office also received donations, both monetary and supplies, from several local vendors and businesses and were able to bring over 50 backpacks of their own to the project.  A special thank you to Gregory Pest Control, Sherwin Williams, and HD Supply for their generous donation. An extra BIG thank you to Sherwin Williams for attending the United Way's School Tools project alongside us.  In all, over 3000 students started the school year off on the right foot with a brand new backpack full of the essentials they need for success.
The Valdosta office also volunteered with United Way and helped with the Day of Caring program. The Ambling team members went to Jacob's Ladder Therapeutic Riding Center to help with painting, repair work and general cleaning around the barn and riding center.  Both offices value their partnership with United Way in helping make a difference to enrich lives, build community and create home for their respective areas.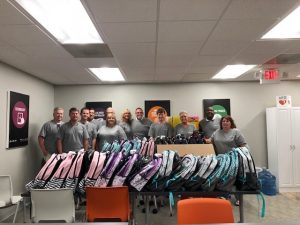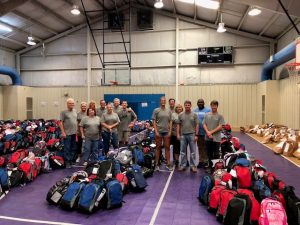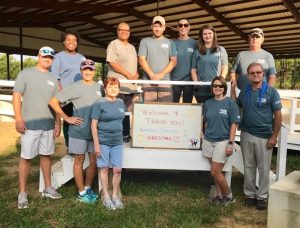 Ashton Park (MS) and Bay Park Hold Blood Drives
The staffs at Ashton Park (MS) and Bay Park both held their annual blood drives this quarter. This was the second straight year that Ashton Park Property Manager Kira Yelverton and her staff have partnered with American Red Cross to put this event on, and it was a huge success. Residents, resident family members and friends, locals in the area and some vendors made up the 24 participants, as 21 pints of blood were collected. There were also hot dogs, hamburgers, fruit, cookies and drinks on hand as a thank you to the participants.
Sister property Bay Park then held their annual blood drive a few weeks later, the fifth straight year doing so. Property Manager Kiacha Graves said the goal was to raise 23 units of blood, and after all was said and done, they had exceeded that mark by collecting 25 total units! They also had food and sweets on hand,  along with a raffle for various prizes, as a thank you to those who participated. Great work by both these Mississippi properties to help save lives and make a difference in their community.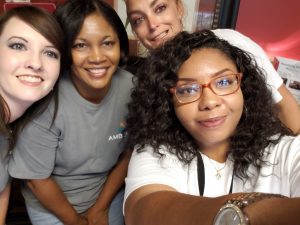 Vaughn Towers Volunteers with Habitat
The staff at Vaughn Towers volunteered with Bay County Habitat for Humanity ReStore in Panama City, Florida, this quarter. Property Manager Vania Keener and her staff, along with Regional Property Manager Luzetta Barksdale, all worked hard in putting items together for sale and cleaning and touching up the store itself. Great work for a great cause!
   
COMING 4th QUARTER 2018
  Salvation Army